Skola d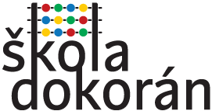 okoran – Wide Open School n. o. is an open non-profit organization dedicated to community development and lifelong learning for socially disadvantaged groups, with an emphasis on families, especially with children at an early age, and with an ambition to compete on the international level. The organization is a full-member of the International Step by Step Association and the managing organization of the Romani Early Years Network that is bringing together all the practitioners from Slovakia who are working with Romani children at an Early age and their parents.
VISION
All families in heterogeneous communities, especially with children at an early age, living in a full-value and tolerant environment, have access to education and social services, and in addressing their needs they can rely on an open and competent public administration.
MISION
Skola dokoran – Wide Open School n. o.
– cares about the needs of families from heterogeneous communities, especially those with children at an early age,
– contributes to the development of stimulating environment with emphasis on education, employment, housing and health,
– eliminates intolerance and facilitates dialogue among stakeholders.
GOALS:
– Children successful in school
– Families which fulfil their basic functions
– Sustainable heterogeneous communities
– Engaged, educated and experienced experts.
ACTIVITIES:
– Education (conferences, lectures, trainings, workshops, seminars, videos …)
– Exchange of experience and transfer of know-how (networking, meetings, study visits, exchanges, online platforms and networks …)
– Creating educational materials and programs (methodology, training manuals, training program, case studies, recommendations…)
– Surveys (of needs), interviews
– Strategic planning and development of community plans (community planning)
– Terrain social work and terrain health assistance
– Community organizing and building of community centres
– Creation of projects and project management
– Monitoring, audit and evaluation
– Tutoring and mentoring
– Information campaigns.
LOCAL PARTNER: Kindergarten, Hrebendova 5, Kosice – Lunik IX
Website: www.skoladokoran.sk